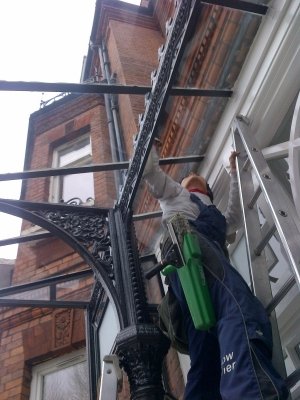 By hand
For best results and where ever possible we look to clean conservatories by hand in the same way that we clean windows- see Window Cleaning by hand. To do this we access the glass roof, only if safe to do so, by placing weight on the trusses. If the glass roof is made of toughened glass we can put weight on the glass itself. Where it is not possible or unsafe to do so, we may still be able to clean by hand with the use of an extension pole or from a harness in line with our approved risk assessments.
By pure water systems

Failing all of that we can use a pure water system. (See Pure Water System for its advantages and disadvantages). The pure water system, easily removes grime and algae from the glass, the fascia and even the face of the gutters if requested.
What if I have Self-cleaning glass?
Nowadays an increasing number of people have self-cleaning glass roofs and skylights. If you have self-cleaning glass, you have probably noticed that from time to time they still need cleaning.
The manufacturer of your glass will likely require that no soap solution or demineralised (pure) water be put on the chemically treated glass face. Therefore you must check with them to see what is best for your specific glass.
Manufacturers usually advise cleaning by soft bristle, water fed brushes. In other words the pure water system without the pure demineralised (pure) water. We cover all bases so whatever the manufacturer advises we are happy to do.
Inside by hand
For best results when cleaning the insides of glass roofs we try to stay away from using a lot of water. Dirty water can drip during cleaning onto furniture and walls. Unless the glass roof is excessively dirty, we spray, rub and polish by hand using a Nova Clear solution.
Is your conservatory a bit different? Have we covered everything? Still unsure about how safe it is to access your glass roof by hand? Give us a call, facebook us or fire us an email!
Click on any image to below enlarge.
Click Here and Book Now!
Any questions? Does the above make sense? Give us a call, facebook us or fire us an email!
0800 0283 586
Like us on facebook: