Letting people we don't know into our home is probably our biggest worry when dealing with service companies. How can the well-meaning person at the office really guarantee that the men working in your home will take the same care that is professed on the phone or on the website?
Here is how;
History
N Clark Window Cleaning Ltd has been a limited company since 2009 and now has over 5,500 customers across London. It had been trading as N Clark Window Cleaning Services for 5 years before that.
The men who will be working in your home have individually demonstrated their complete honesty and trustworthiness over years of professional workmanship, either for us or, for companies we have a good working relationship with. Our window cleaners are fully employed by us.
If sub-contractors do need to be bought in, they are always people who we know personally and can vouch for. Many of them Nicholas Clark has worked with, and in some cases for, before setting up the company.
High expectations of individual responsibility
If anything is damaged, the cost of correcting of that error will come out of the collective pocket of all of the team. Therefore, each cleaner is personally interested in making sure nothing goes wrong for him and his colleagues.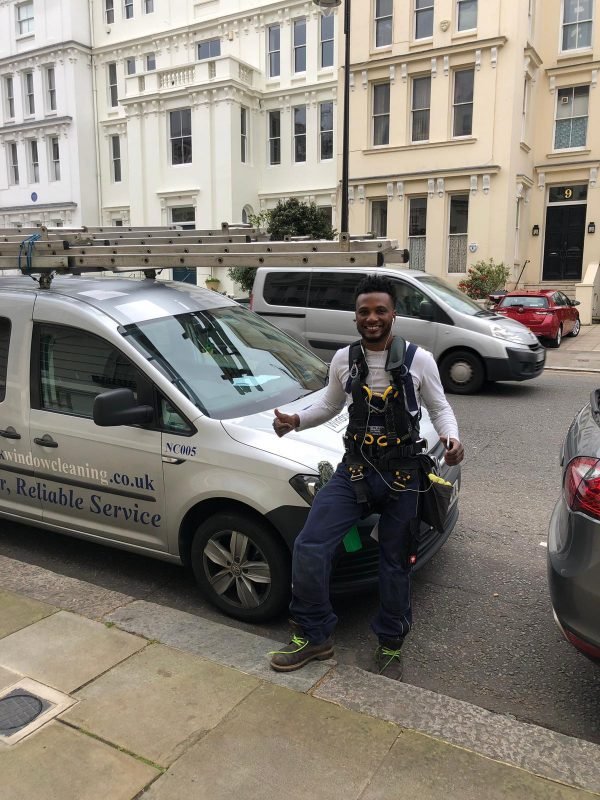 What if they lie and don't report damages?
If they ever did, this is what would happen;
In their contracts the one thing they can be heavily disciplined for, is damage which is reported to us in the first instance by the customer. Therefore the worst case scenario for them is you reporting damage before they do.
As we are fully insured, even if their error is an expensive one it is never in their interest to be deceitful. The excess they will have to pay, though not insignificant, is certainly not worth the possibility of them losing their job. Therefore a good healthy incentive for honesty is achieved.
A proven track record
We stand by the quality of all the work we do. Over the years we have repaired and fixed many things, from tiles and window sills to, in one instance, completely relaying a roof. We have worked closely with "PH Carpentry and General Building Services", "Quick Nicks Handy Man", and "Paul Juby Specialist Contractors", and so, not only are we able to repair and fix things that go wrong, we are also well placed to help with, or advise you on, contractors to use should you have new projects you are interested in.
If you like our honest straight talking manner I'm sure you would also be pleased to work with other tradesmen of like mind.
Why us?
In short we are prepared for every eventuality. You can feel confident knowing that whatever happens you are in the safe hands of people who want to keep your custom forever.
Any questions? Does the above make sense? Give us a call, Facebook us or fire us an email!
0800 0283 586
Like us on facebook: