What is it?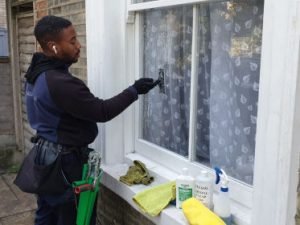 This special service will get your windows and sometimes even sills and frames to a sparkling showroom finish. Window detailing can only be done by hand. Window detailing uses a combination of chemicals and razorblades to remove the toughest and greasiest of stains from windows, including: varnish, cement, glue and paint (as long as the stains have not bonded with the glass), without damaging your glass.
When should I have it?
This may not be the kind of service that you use every day, since it is very time consuming and as a result, can be expensive. But if a big event is around the corner, or if your windows have just never quite looked the same since you had the builders in, then window detailing might be just the thing for you.
Click on any image below to enlarge.
Click Here and Book Now!
Any questions? Worried about chemicals on the glass? Give us a call, facebook us or fire us an email!
0800 0283 586
Like us on facebook: