Window Cleaning References in Brondesbury Park
Your cleaner has just left - just to say thanks. From start to finish your service has been excellent. Prompt correspondence and the cleaning was great - fast and efficient, we will be booking again !
Silviu's team were outstanding, the way they worked, it was just marvelous. It was really something exceptional, and they worked nonstop for more than four hours! It is not an easy house to clean, and they left the windows beautiful. They cleaned the swimming pool too, they were such lovely people and it was a joy to watch them.
I was delighted by the service – punctual, efficient, effective and pleasant. I will definitely use your services again, and will definitely recommend your company to others in the road." "Very, very happy with the team and the clean. Extremely happy, could not recommend us more highly. 100% Really seriously impressed at how courteous and professional the team were, the attention to detail was exceptional!!!!
FANTASTIC !! – I'd like a regular clean now please
Brondesbury Park – An area of London where there isn't actually a park!
Brondesbury Park is a popular place for people to live especially young families and professionals. The irony is that it doesn't actually have a park there anymore. There was once a beautifully landscaped garden during the 18th Century that belonged to Lady Salusbury who lived in a house called Brandsbury. Some of the road names allude to this fact. While the garden is no longer in evidence there's still plenty of open space not too far away, such as at Tiverton Green and Queens Park.
In 2017 something out of the ordinary happened! Hundreds of residents and business owners had to be evacuated when an unexploded German Aircraft World War II bomb was discovered at a building site in Brondesbury Park. It was a considerable size weighing 500 lb. While it understandably caused a lot of concern at the time and many people were forced out of their homes for a few days, the bomb was safely detonated, and the area made safe again and residents returned to their homes.
Most residents of Brondesbury Park are likely to live in double fronted 1930's properties which offer lots of space and the rarity of off-street parking and a well sized garden, so there's lots of reasons to buy a house in this area. If you are a business owner, you have access to a thriving community and are easily accessible via good transport routes.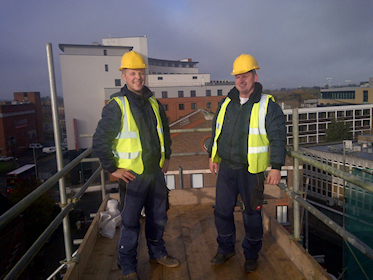 Whether you live or work in this area you will need a window cleaner in Brondesbury Park. N Clark Window Cleaning Ltd is an established window cleaner in Brondesbury Park. We have many years of experience cleaning both residential properties, offices and retail premises. We can clean windows on any building including hospitals, schools and shops etc. We invest in the best equipment and employ skilled staff who receive ongoing training to ensure that they work safely at all times while carrying out a thorough clean of your windows.
When window cleaning in Brondesbury Park we can clean your windows both externally and internally and will call at a time convenient to you. Don't worry if you think you have windows that are inaccessible. We have the equipment to reach even the most difficult to access windows.
As part of window cleaning in Brondesbury Park we can also clean fascia's and soffits, gutters, conservatory windows and Velux windows. We also have a jet washer which can clean external walls and roofs. So, if you need a window cleaner in Brondesbury Park, give N Clark Window Cleaning Ltd a call today.