Window Cleaning References in Finsbury Park
The guys turned up today and were very good and did a great job. Many thanks again.
They were very professional, did a great job, took shoes off without asking, yes very pleased.
In Need of a Window Cleaner in Finsbury Park – The sky's the limit!
Finsbury Park is not to be confused with Finsbury. You can find Finsbury Park toward the northern edge of inner London whereas Finsbury is in central London. Finsbury Park is a multi-cultural area which has a larger than average immigrant population and fewer residents who were born in the UK.
The area has undergone many changes and the Finsbury Park skyline is due to change again very soon with a brand new development called City North at Finsbury Park which will offer a range of apartments providing luxury London living in your very own "sky villa".
If you are already a resident or business owner in Finsbury Park or are keen to move into the area you will no doubt be in need of a window cleaner in Finsbury Park. N Clark Window Cleaning Ltd have been established for several years and are a professional window cleaning company that are trustworthy and reliable.
As a window cleaner in Finsbury Park, we follow the traditional methods of window cleaning. We feel it is the best way to clean windows and our customers agree! That's because based on our years of experience cleaning windows we have found that cleaning them manually by hand using an applicator and cleaning solution and then cleaning it off manually with a squeegee and cloth results in a more thorough clean. Being closer to the window means you can identify specific areas of dirt and grime, wipe the sills and frames and leave the window dry with any dirty water wiped away.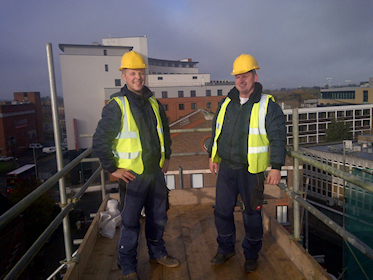 We use the traditional method for cleaning windows both internally and externally. We will guarantee a clean finish every time.
We provide window cleaning in Finsbury Park for residential homes, businesses and retail outlets. We have all the right equipment combined with highly trained technicians to clean windows in the most difficult to access areas, nothing is out of reach. Our staff also receive regular training to ensure that they work safely at all times. With our window cleaning in Finsbury Park, we provide a regular service that fits around your needs. For business owners we will clean the windows outside of regular working hours if necessary, offering not just regularity but flexibility too.
As part of our window cleaning in Finsbury Park we will also clean conservatory's, sun rooms, Velux Windows as well as gutters and fascias etc.
If you are looking for a window cleaner in Finsbury Park call N Clark Window Cleaning Ltd. We will be more than happy to give you a free no obligation quote.