Window Cleaning References in Hendon
They did a good job, took care of window sills very nicely. A traditional clean!
Very pleased, everything I asked them to do, they were more than willing. They were polite, clean, they were wonderful! We will definitely have you back
Hendon, Home to the World Famous RAF Museum!
8.9 million people live in London, so it's not surprising that some people living in the city may feel that with such as massive population, there is no community spirit in the neighbourhood they live in. That's not the case in Hendon. It has a strong sense of community and having moved in, very few people move out, as the area has a loyal following. With 10,000 new homes either being built or in the pipeline there's lots of opportunity to live in Hendon and with the M1, A5 and the North Circular it is also one of the best-connected areas in and around London.
There are a range of properties including flats, terraced housing, large Victorian homes and maisonettes. It's an ideal area for growing families wanting to upsize as well as young professionals wanting a more affordable place to live. It's also a great place to locate your business as it is well serviced by the Northern Line of the underground.
If you live or work in Hendon, having a window cleaner in Hendon is a necessity but window cleaning can be a time consuming and even tricky job especially if you have some hard to reach windows, so it's best to leave it to the experts!
N Clark Window Cleaning Ltd have been providing professional window cleaning in Hendon for several years and we have established ourselves as a reliable and trustworthy company.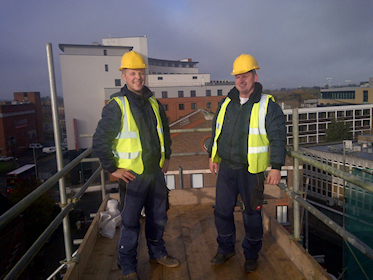 Our window cleaning technicians are comprehensively trained to clean windows safely and securely and to use the very best equipment ensuring your windows are thoroughly cleaned. As a window cleaner in Hendon we will not just clean the outside but the inside as well if required and with the equipment we use no window is too awkward to reach.
As part of our window cleaning in Hendon we also clean gutters, fascia boards and soffits as well as pressure wash external walls and roofs etc. We will also clean Velux windows and conservatories. All our technicians wear uniforms and our vans have signage so there is no question about who is outside your house.
We have a range of customers who use our window cleaning in Hendon services including homeowners, landlords, business owners and shop owners. With the variety of styles and age of properties in London we have experience in washing secondary glazed windows as well as Victorian and Georgian windows and will respectfully handle them in a manner appropriate to their age to ensure they are kept in good condition. We also have public insurance liability and employer's liability giving you peace of mind.
To find out more about N Clark Window Cleaning Ltd your window cleaner in Hendon, give us a ring today.