Window Cleaning References in Knightsbridge
Silviu did a very good job, he was quick and efficient. We will definitely be using you again.
Thank you, the men did a great job and fast as well! I will definitely call you again next time even though it is a small job.
Knightsbridge – Not Just Home of Harrods, but also Window Cleaner in Knightsbridge, N Clark Window Cleaning Ltd
Knightsbridge is an area known for the finer things in life such as luxury goods, beautiful clothes shops, exceptional restaurants and many exclusive hair and beauty salons, but at the centre of it all is Harrods, a department store which has long been associated with this part of London and where people from all over the world flock to. For visitors to the city it is also home to two of the most popular museums the Natural History museum and the Victoria and Albert museum.
300 years ago, if you were a visitor to this part of the city your experience would have been very different. You would have been more concerned with keeping yourself safe as the area was known as the place where highwaymen, robbers and cutthroats gravitated to and they targeted travellers on the western route out of London. Thankfully things changed in the 19th Century.
Today the stunning red brick buildings ooze sophistication and elegance and make this area of London easily identifiable and the great thing about Knightsbridge is that it is easy to get around as it covers quite a small area and is essentially based around Knightsbridge road which runs along the south side of Hyde park from Hyde Park Corner to Brompton Road.
N Clark Window Cleaning Ltd provide window cleaning in Knightsbridge.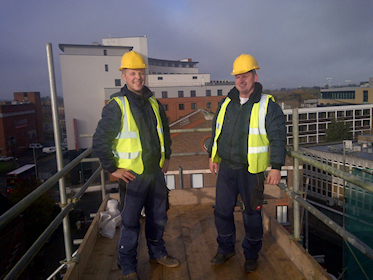 We have years of experience cleaning windows on domestic properties, offices and retails premises. For window cleaning in Knightsbridge, we prefer to use the traditional methods of window cleaning which involves using an applicator to wash the window as well as a squeegee to remove the water and detergent and dirt from the glass. The final part of the process is to use a cloth to wipe away any residue that has been missed by the squeegee. Cleaning windows by hand means that when window cleaning in Knightsbridge we can be nearer to the window and therefore particular areas that need attention are more visible and can be addressed. It also means that we can clean right to the edges of the window, as well as clean the frames and the sills giving a more thorough clean. We find that our customers prefer the methods we use and are always happy with the results they receive.
As window cleaners in Knightsbridge, when necessary we will also use the reach and wash system, which means that when some windows are difficult to reach due to their height, we always have a backup plan. There is not window that is inaccessible for us.
If you are looking for a window cleaner in Knightsbridge, call N Clark Window Cleaning Ltd 0333 696 3543.