Window Cleaning References in Lower Holloway
Absolutely brilliant, your operatives were fantastic!! They dealt with a very large skylight really well, great.
Absolutely delighted! They were amazing, charming. They were so quick, and did a brilliant job. Couldn't be happier.
"Dear All, Just a quick note to say that your guys have just been to clean my windows and I am delighted with the results. Even the most awkward of windows which haven't been cleaned for years are now sparkling.Thank you so much. I'll not leave it so long next time! I'd be more than happy for you to put this testimonial on your website. Great work. Sorry, I also meant to say that the lady I dealt with on the phone yesterday was also very helpful and complete delight to work with. You have a great team. Thank you.
Searching for a Window Cleaner in Holloway – N Clark Window Cleaning Ltd Can Help!
Holloway is a neighbourhood that is part of historic Islington. In the Eighteenth-Century Holloway Road was used to herd cattle into town to be sold at Smithfield Market. A lot has changed since then and for Arsenal supporters Holloway is a familiar area as it's home to the Emirates Stadium where they play. However, this area of London offers much more than a football stadium as it is an area that students gravitate to so is quite trendy but is more affordable than a lot of other areas of London. It's an up and coming area and the site where the prison was is soon to be developed into an estate of 1,000 homes.
Over the years N Clark Window Cleaning Ltd has established itself as a professional window cleaner in Holloway. As part of this we have developed a reputation for being reliable and competent, with excellent customer service.
We use a range of equipment in order to ensure we can carry out efficient and thorough window cleaning in Holloway with all work completed within the boundaries and health and safety. With the equipment that we use we can reach excessive heights with minimal disruption to you and your family or your business.
We employ a highly skilled workforce who provide window cleaning in Holloway whether it is individual homes and apartments, residential blocks or business premises.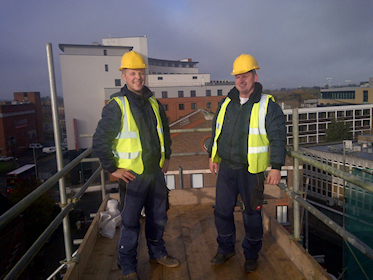 Why not give us a call to find out more about our window cleaning in Holloway. We will tailor our visits to a time that is convenient to you and if you won't be home, we can make arrangements with you to access your home. Ring 0800 0283 586.