Window Cleaning References in Palace Green
Fantastic window Cleaner! very pleased.
From a Diplomatic House to an Embassy, we all need a Window Cleaner in Palace Green!
Palace Green is situated in the heart of Kensington just off Kensington Palace Gardens and is owned by the Crown Estate meaning that most of the properties in this area are sold with 90-125 year leases. With neighbours like Roman Abramovich, the Sultan of Brunel and numerous diplomatic houses and embassies, living here, will cost you anything up to £117 million which was what one property went for recently.
Surprisingly, this area of Kensington hasn't always been a place of luxury and wealth. In the houses that stood at number 8 Kensington Palace Gardens, from 1940 – 48 they were home to an MI19 prisoner of war facility where captured Germans were interrogated. The original buildings were demolished and replaced in the 1960's with a stunning development of luxury apartments.
If you are a resident of Palace Green in Kensington or the neighbourhood surrounding this and require professional window cleaning in Palace Green, N Clark Window Cleaning Ltd are a reliable and trustworthy window cleaning company. Our window cleaning technicians are fully trained to clean your windows both externally and internally safely and competently and we also work with the utmost discretion. All the staff wear uniforms and our vans have signage on them, so you know when we are outside your home.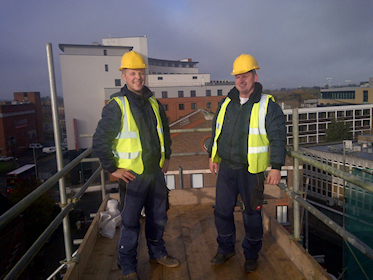 When window cleaning in Palace Green we will always ensure that you know when to expect us and will try to be there at a time convenient to you. Our staff are all trained to use ladders safely and work at heights using the very best equipment available.
With window cleaning in Palace Green we don't just clean the windows but also the sills, frames and surrounds. Although we are a window cleaner in Palace Green, we also provide other services such as uPVC cleaning, gutter cleaning, cleaning Velux windows and conservatories. You may wonder why it is important to have your gutters cleaned regularly? As a window cleaner in Palace Green we would always say that having your gutters cleaned is essential as it allows for efficient water flow, which is especially important in leafy suburbs like Palace Green. Having clean gutters prevents a build-up of dirt, leaves and mould in your drains too.
If you require more information about having a window cleaner in Palace Green contact N Clark Window Cleaning Ltd on 0800 0283 586. We would be happy to talk through our range of services with you and on request can provide a free, no obligation quote.