Window Cleaning References in Regents Park
Really happy, fantastic job!
It was excellent, it all went very well indeed. They were very efficient, very courteous and they did a great job.
Very happy, the boys did a very good job. I'd like a clean every 14 weeks
Palatial Properties Need Professional Window Cleaning in Regents Park
Regents Park in London is an area that is known for its iconic architecture, palatial homes and trendy shops. However, it originally had royal connections as it was the hunting chase of Henry VIII. It was only in the 19th Century, in 1818 to be exact, that properties began to be developed around the park when the Prince Regent – George decided that the park should be his summer residence and planned to build a palace. While the palace was never actually built the Park Crescent was, and this comprised of ten terraces designed by Regency architect John Nash. The crescent is still there today and has been recently re-developed into luxury apartments. It's the only royal crescent in London.
Since the 19th Century Regents Park has had a chequered past. Due to the economic downturn and changes to the social landscape, Regents Park lost its appeal and during the war, with many of the city and West End offices being bombed, many of the residential buildings in Regents Park were converted into offices. Things improved in the 1970's with investors buying properties in the area and with the introduction of a new 150 year lease instead of the 60 year limit in the last 15 years many buyers and developers have snapped up office properties and converted them back into buildings for residential purposes.
Its's not surprising then that with plenty of luxury boutiques, chic cafes and great restaurants, it's a popular choice for celebrities to live.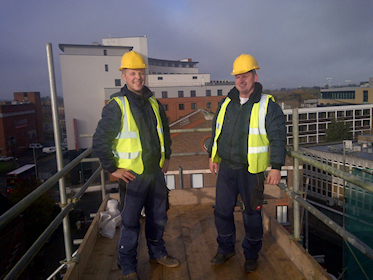 There are many famous individuals who have chosen homes in Regents Park. York Terrace, Hanover Terrace and Chester Terrace are all beautiful streets that feature large, homes and grand terraces. If you can afford it, who wouldn't want to live in this part of London?
N Clark Window Cleaning Ltd provide window cleaning in Regents Park. We provide a wide range of window cleaning services in Regents Park for both residents and business owners in this area of London.
As residential and commercial window cleaners we provide an efficient and professional service for all our customers. In order to guarantee customer satisfaction, we employ a highly skilled workforce who use the best equipment available. We use traditional methods of window cleaning including the use of ladders to access windows at height.
We find many of our customers prefer us to use the traditional methods of window cleaning in Regents Park as we are able to carry out a more thorough clean, reaching every part of the window, being able to identify particularly dirty areas of the window and clean the frames and sills etc. When necessary we also use a Pure Water System in order to access difficult to reach areas. We can clean your windows both inside and out, tailoring our window cleaning services in Regents Park to meet your needs.
In addition, we also offer conservatory cleaning, gutter cleaning, pressure washing the external areas of buildings and cleaning Velux windows. We have the resources and experience to provide commercial window cleaning at sites such as schools, hospitals, shops and other retail units as well as office blocks.
If you are looking for window cleaning services in Regents Park, then look no further than N Clark Window Cleaning Ltd. Give us a ring on 0333 270 8624 today.