Window Cleaning References in Shoreditch
Very happy indeed, Rayan did a great job! He went above and beyond, he was so thorough 100% results. Would like to try every 7 weeks.
In Need of a Window Cleaner in Trend Setting Shoreditch?
From as far back as the 16th Century, Shoreditch has been known as the entertainment quarter. It was the place where William Shakespeare's early plays were first performed. In the century after this wealthy traders and French Huguenot silk weavers moved to the area and a textile industry was developed in and around Shoreditch. While over the years since the 16th and 17th Centuries the area has changed and has seen periods of decline Shoreditch has recently undergone a transformation.
If you are looking for an area of London that is hip and trendy, you can't go far wrong with Shoreditch. It's known as an "arty" area and is adjacent to the equally hip and trendy Hoxton neighbourhood. Many trendsetters and creative characters gravitate to Shoreditch. Walking along the streets you will see some of the best murals in London particularly in Redchurch Street and Shoreditch Triangle and you can't live in Shoreditch without visiting the Columbia Road Flower Market.
For residents of Shoreditch, whatever house or street you live on, in this part of London, you will need a window cleaner in Shoreditch. That's where N Clark Window Cleaning Ltd can help. We use the traditional methods of window cleaning in Shoreditch in order to get the very best results and our clients prefer these methods too. We also carry out window cleaning in Shoreditch at both commercial and retail premises.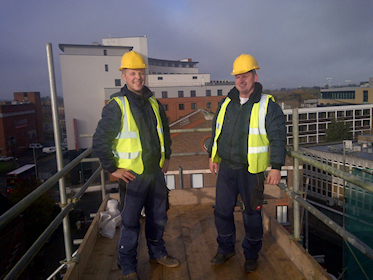 Our team of highly trained technicians can work at height, safely accessing even hard to reach windows or awkward spaces. While we prefer to use traditional methods of window cleaning in Shoreditch, we will use the latest water fed pole systems to clean windows when necessary. We can clean your windows inside and out.
As a window cleaner in Shoreditch we also offer a range of other cleaning services for example gutter cleaning. While you may not think this is important, if leaves and debris are allowed to build up in gutters it can cause water leaks and structural damage, so it is vital that they are cleaned regularly. In addition, we clean fascia boards, Velux and other Skylight windows as well as pressure washing roofs and external walls etc.
For more information about getting a window cleaner in Shoreditch call N Clark Window Cleaning Ltd today on 0800 0283 586.