Window Cleaning References in Waterloo
Very happy, they were on time, good manners and the job was done quickly. We have your details and should we need you again, we will not hesitate to call.
From Marshy Ground to a Central Travel Hub – Waterloo
Hear the word Waterloo and depending on your generation you might think of Abba and their famous song of the same name. If you are more into your history than your music, you might be inclined to think of Napoleon and the Battle of Waterloo that took place in 1815 near Waterloo in Belgium. However, Waterloo is also an area in Central London that runs alongside the Thames on the south bank. Waterloo in London was actually named after the battle of Waterloo and it's been described as the capitals bustling epicentre. If you visit or live in the area of Waterloo, you can see why.
Waterloo is a great place to socialise and relax with its food markets, restaurants and theatres, but it hasn't always been like this. It used to be a very marshy area and during its early history was known as Lower Marsh. There is still a street called Lower Marsh Street and Lower Marsh Market which reflects its background. Nowadays though many are more familiar with the fact that it is home to an integral travel hub with tens of thousands of people using Waterloo station each day, making it one of the busiest parts of London.
If you are a resident living in an apartment in one of the stunning modern developments or are in a traditional Grade II listed cottage in one of the sought-after conservation areas in Waterloo such as Roupell Street, you will need a window cleaner in Waterloo.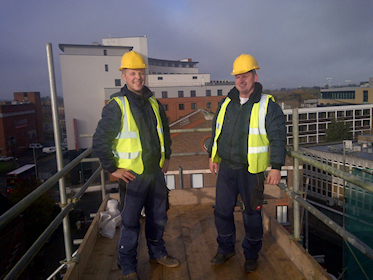 As an established and professional window cleaner in Waterloo, N Clark Window Cleaning Ltd have years of experience working on residential buildings as well as commercial and retail premises. We can adapt our window cleaning in Waterloo to your requirements.
We have cleaned shop and office windows and can clean hotels and schools etc. We invest in the best equipment and ensure our team are highly trained. This combination means you receive professional window cleaning in Waterloo producing superior results.
If you would like a window cleaner in Waterloo to come and clean your windows either internally or externally or both and you are either a resident or business owner in Waterloo, ring N Clark Window Cleaning Ltd today on 0800 0283 586. We have a fantastic reputation in the area.
In addition to window cleaning in Waterloo we also provide a range of other services including gutter cleaning, fascia board and soffit cleaning, pressure washing external walls and roofs as well as cleaning Velux windows and conservatories.